Restaurants
Yummy Teriaki - 0 Burps
I originally gave this restaurant 5 burps, it was one of my favorites. It is now 0 burps. I was eating and heard a noise in the kitchen. A big rat was checking out the rice cooker bowl that was placed on the floor; a very big rat.

I had Teriyaki Chicken (W7,000) and a Coke (W1,000) - he does not take credit cards, but does take dollars. The food is very sweet. The friendly gentleman runs the place; he'll cook your chicken and cut it up all on the grill in front. You also get white rice, coleslaw (cabbage covered with gooeygob), and a macaroni salad in a similar sweet sauce. He actually has Kleenex as his knapkins, two times larger than other restaurants. I have been there twice and plan to go back. You can ask for a fork - he wiped it off to ensure it was clean.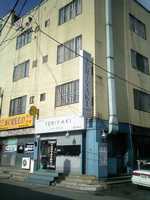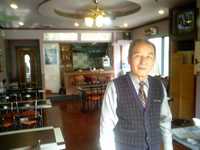 ---
Bulgoki House - 5 Burps
This is sometimes called the "mud hut". Interesting façade. Appears to be run by husband/wife team. I had bulgogi (W10,000) and 3 cokes (W1,000 each). They accept credit cards. The bulgogi came with lettuce, garlic, spicy dried squid, and many side dishes I cannot identify, but all were very tasty. I'll go back and get more for this review and my stomach. You can ask for a fork.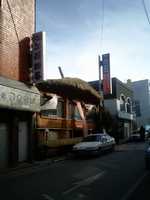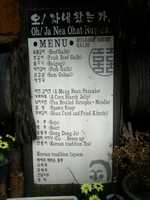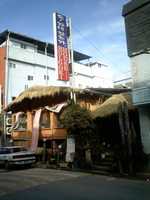 ---
Pork Bulgogi Café - 2 Burps
This was not one of my better picks; the wrong way sign in the photo should have been an omen. I went in because there was a large goup of locals eating there. Although I ordered bulgogi (W7,000), and was brought out all the normally associated fixin's at the grill where they would normally cook it; I didn't get bulgogi. They gave me some soup with pork, onions, funky noodle like things, and something I can only guess is octopus (it could be snails, who knows?). I was munching along peacefully, then I crunched a bone in the pork - yes, in the soup stuff. I also was given a green plant dish with what appeared to be shiny noodles; it tasted a little funny, then I looked closer at the noodles -- they were tiny transparent fish. Definitely made the rest of the meal challenging to eat; however, I did pay for it, so I ate most of it. The spicy paste and root (I dunno what kind) kimchi were good. They also served cold green tea which kept me wide awake until 2:00 am (no Cokes). I'm not going back. This appears to be run by husband, wife, and daughter. The husband was very friendly and communicated with me via the pointy-talky book I have. You can get a fork.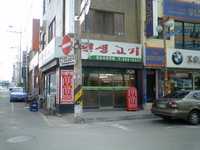 ---
Han Yang Bulgogi House - 5 Burps
Han Yang Bulgogi House: (look below the massage signs). I ordered spicy chicken bulgogi (W10,000) and 2 Cokes (W1,000), they accept credit cards. I'm not certain what all the food was, although I didn't eat the little eggs. From what I could identify: Red Leaf Lettuce, Cole Slaw, Cream Corn, Cabbage Kimschi, Batter fried fish and squash (cold), Bean Sprouts, Peanut/Sunflower Seed/Dried Apple salad (very good), Cucumber or Sqaush Kimschi, Spinach, Chili Paste, Jalepeno Like cuts (didn't try), Garlic, Potato Salad, and Rice.

In the center of the table is a grill. They take a bucket of hot coals, pick it up with a lever, and put it under the grill. They cook the meat while you eat from the little dishes. They put half a chicken down. They cut it up with siccors about 5 minutes into the cooking process. I had to ask for a fork, because I would starve to death with chopsticks. The little plastic tacklebox is where they keep the chopsticks and spoons. The tiny white piece of paper sticking up from a dispenser is the knapkins (about 4x6 inches). They gave me a wet towlette to wash my hands before/after eating. I could have sat on the floor (in the background), but it didn't look too comfy. One Korean family did, another sat at a table.

I'll be going back here.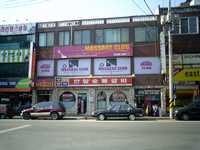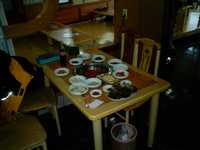 ---
Sam Il Bulgogi House - 5 Burps
We had beef, chicken, and pork bulgogi. They had a raised heated floor and we took our shoes off outside; the floor kept our feet toasty. They have both chair and floor seating. I spent W15,000 for 3 Cokes and all the food I could eat.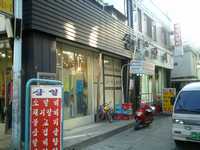 ---
Sawatadee Thai Restaurant - 4 Burps
Very good Thai food. This restaurant almost exclusively serves Americans. The menu is in English and the owners speak very good English. I was kidding with the waitress and she teased back by not giving me a fork. With some more teasing, she caved (good thing or I would have starved). I gave it four burps for the prices (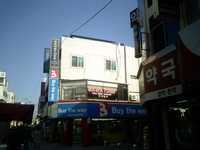 ---
Ma Ma Restaurant - 3 Burps
I ordered chicken fried rice for 6,000 won and 2 Cokes for 8,000 won. Most of the menu items were pricey for the class of restaurant. The place smelled a little funny, like they shouldn't store the kimschi in the firdge indoors. They have table you can sit at. Chicken fried rice was good, very spicey. Also served with cabbage kimchi, dried squid kimchi & little fish, cucmber kimchi, and fried SPAM served cold. I suggest against the SPAM. Poku available.

---
Pizza Club - 4 Burps
If you want pizza that looks like the pictures, this is the place. The pizza has lots of cheese, but not a lot of flavor. The restaurant is very clean, has good service, and serves your dinner on shiny white plates with a fork and knife. Pizza was about W10,000 ($10) and a 20oz bottled coke was W2,000 ($2).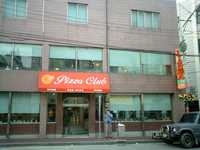 ---
Chineze 2 Go - 4 Burps
This is the restaurant closest to the base and the most American (even though it says Chinese). A meal is W8,000 and they have fountain cokes for W1,000.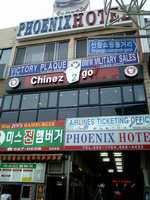 ---
Kum Yong Chinese Restaurant - 5 Burps
This is my favorite Chinese place so far. I get the Rojoki chicken W8,000 and a Coke W1,000. The place is clean, average service, they have forks, and a big screen TV.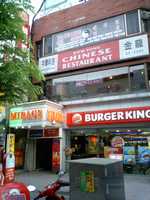 ---
Puffin - 4 Burps
Puffin's has a good variety of American food, but it is expensive; plan on $20 per plate, $30 for steak. Service was below average; most folks seem to like the atmosphere.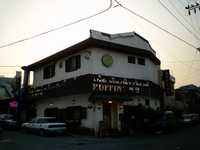 ---
Popeyes - 5 Burps
I haven't eaten at the off base Popeyes, just wanted to show they have one. Prices look about the same as on base.